Dimarzio Swade Sanchez of Busby was convicted on Thursday of first-degree murder for the death of Roylnn RidesHorse.
Sanchez now faces a mandatory sentenced of life in prison for the murder and a fine of up to $250,000.
U.S. District Judge Susan Watters presided over the trial.
Co-defendant Angelica Jo Whiteman of Lame Deer, 19 years old, pleaded guilty to aiding and abetting first-degree murder in August 2017.  She is scheduled to be sentenced on Jan. 3 and faces life imprisonment, a $250,000 fine and five years of supervised release.
Co-defendant Frank James Sanchez of Lame Deer, also 19, pleaded guilty to misprision of a felony and accessory after the fact in March 2017.  He is scheduled to be sentenced on Jan. 18 and faces a maximum punishment of 15 years in prison, $125,000 fine and three years supervised release.
During the trial, Whiteman testified that she met RidesHorse for the first time on the night of the April assault.
The two women were at the Kirby Saloon, where Whiteman was gambling with Sanchez and RidesHorse was arguing with her husband. Whiteman said she went to the bar to buy a pint of alcohol for the drive home and encountered RidesHorse, who appeared upset.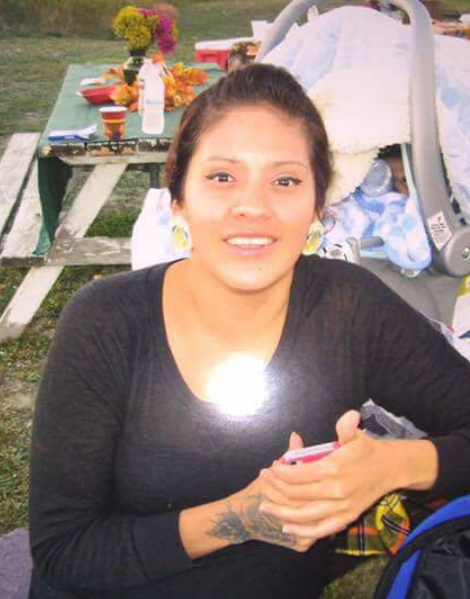 "She said she was fighting with her husband so I hugged her and told her it would be okay," Whiteman testified.
Whiteman agreed to take RidesHorse home to Crow Agency and led her outside to the vehicle, where Sanchez and his brothers, Frank and Larry, were waiting with two teenage girls.
Frank Sanchez, 20, testified Tuesday that he watched as Whiteman and RidesHorse approached the vehicle.
"Lynn looked sad," said Frank Sanchez. "I just told her jump (in), you're with good people, don't be scared."
Whiteman and RidesHorse got into the vehicle and headed to Busby to drop off Larry before taking RidesHorse home to Crow Agency. After dropping off Larry, the remaining passengers got back into the vehicle and Dimarzio drove away.
According to Frank and Whiteman's testimony, a fight broke out between Whiteman and RidesHorse over a supposed dirty look Rideshorse was giving.
"She was 'mean mugging' everyone," said Frank Sanchez.
Whiteman began punching RidesHorse from the front seat and so Whiteman told Dimarzio to turn the vehicle around. Dimarzio drove the vehicle to Castlerock Road, a dirt road in a remote area on the Crow Indian Reservation.
The witnesses in the vehicle gave conflicting testimony about what happened next, ranging from Whiteman pulling the victim out of the vehicle to both women getting out of the car on their own.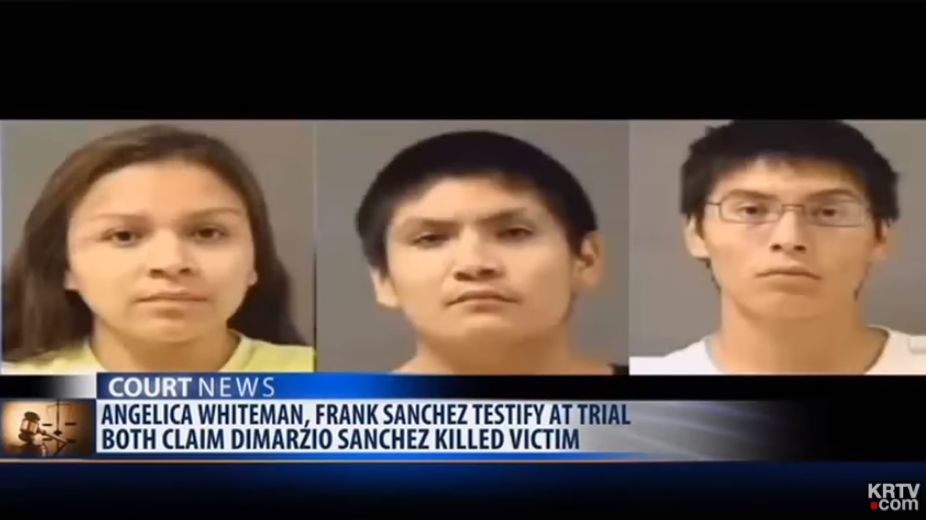 The fight escalated, according to the witnesses, and Dimarzio then allegedly ordered the victim to strip.
Dimarzio then allegedly instructed Whiteman to "finish her off" and showed her how to use a bandana to strangle RidesHorse.
Minutes later, Dimarzio allegedly began kicking the victim and strangled her.
Frank and Whiteman both testified Tuesday that at various times throughout the assault, they tried independently to stop the attack. Frank and Whiteman both implicated the other in helping Dimarzio assault the victim.
Frank testified that he retrieved a gas can from the trunk at his brother's orders. He said Dimarzio then doused the victim with gasoline and set her on fire.
Whiteman said at her change of plea hearing that she saw Dimarzio set the victim on fire, but said in court she did not see who exactly ignited the flames.
The car sped off with one fewer passenger and headed to Busby where Dimarzio allegedly told everyone to keep quiet about the attack.
After RidesHorse was found the next morning by a passing rancher, she was taken to the Crow Indian Health Services. The physician who first received RidesHorse testified that the victim's injuries were so severe he could not tell whether the patient was male or female.
Dr. Armando Sanchez, no relation to the Sanchez brothers, appeared shaken as he recounted RidesHorse's injuries. "Her face and mouth were burned," said Dr. Sanchez. "It appeared someone poured gas down her throat and set her mouth on fire."
Despite her injuries, RidesHorse was able to inform her doctor that she knew who attacked her, the doctor testified.
RidesHorse was transported to a burn unit in Salt Lake City with second and third-degree burns over half of her body. She died in Utah two months after the assault.
MTN's Aja Goare