HELENA – A Helena family is thanking a stranger turned friend, after social media helped them track down a priceless present.
It all begins with a green Fernandes Dragonfly guitar.
Desiree Luba told MTN her fiancé Adam Jette received the guitar as a present from his father, Guy Dominic Jette, when he was 14 years old.
Jette just had to have it, after he saw a music store clerk play Metallica's "Enter Sandman."
Guy, a musician himself, died in 2005, and Jette cherished the instrument as a reminder of his father.
But hard times meant choosing because the guitar and getting to work, said Luba.
Jette believed his father would want him to prioritize keeping his job, so two months ago he pawned the guitar in Helena.
"There were intentions on pulling it out," said Luba. "But hard times don't come out easy."
She wanted to buy the guitar back for him as a surprise for Christmas, and periodically checked Capital Pawn to see if it was out on the floor.
This week, Luba discovered the guitar had already been sold.
On a whim, she posted on Facebook, asking if anyone had bought the guitar, and if she could purchase it back.
So many people shared the post that within an hour, she connected with local musician Jason Slead.
He had recently bought the guitar, thinking it might be one he used to own. But it didn't match his old guitar's serial number.
When he saw Luba's post, he said he immediately knew who the guitar belonged to.
"You gotta do it," said Slead. "There's gonna be more guitars. It'll be fine. But this one is specific to that particular person. You can't help it, you gotta do it."
"Then it just became, how do we get this connected back up to the owner?"
Thursday, Luba took Jette to Slead's house, where he gave him the guitar.
"He was really scrambling to figure out how all this came together," said Slead. "Through a Facebook post, and some random dude who bought a guitar, and his fiancé who went above and beyond. But it worked out well, and it's the way it should be."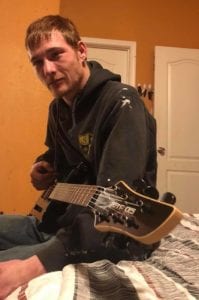 Slead said it took no time to recognize the sentimental value of the guitar, one he had simply stumbled upon.
"It becomes larger than what the gift is," said Slead. "I don't know how you stand in the way of that."
He also offered to give Jette a month of guitar lessons for free, so he can learn to play music that reminds him of his father.
According to Luba, Jette was speechless and spent Thursday night playing the guitar, happy to have a piece of his dad with him again.
"It's truly a gift for me to be able to give this back to him," said Luba. "I have a lot of family to buy gifts for, but this one's priceless."
"We do reflect on those who aren't with us at the holiday season," said Slead. "That's hard for people. And if this guitar is a piece of his dad around the Christmas tree, then so be it. It's meant to be."