BILLINGS- Thieves are repeatedly taking advantage of unlocked cars or conveniently located keys to get inside a car and drive away, according to Billings police.
It's a trend that has kept officers busy.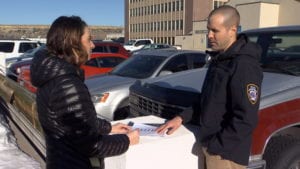 Lt. Brandon Wooley of the Billings Police Department said on average two cars a day are stolen in Billings. It's a trend he finds alarming and gives some insight as to why Billings seems to have a problem with thieves stealing vehicles.
"You know other cities have chop shops or people who steal vehicles for a living," he said. "Typically what we see is they're used in drug nexus crimes."
That usually means crimes associated with meth use.
"It will be driven around a little bit, ditched in a neighborhood, sold and traded for drugs or other monetary values. It can be taken out to other locations for drug runs, or just somebody needing a ride," said Wooley.
According to statistics obtained by the National Insurance Crime Bureau, Billings ranked 15th in the nation per capita for stolen vehicles in 2017.
That year, Billings had 952 stolen vehicles reported. That's nearly four times more than Great Falls, which had 228, and Missoula, where there was 235.
Wooley said numbers fluctuate a bit each year and in 2018 Billings Police recorded 754 stolen vehicles within city limits.
To combat that, three officers and a detective use proactive enforcement. They are known as the Billings Street Crimes Division.
The unit focuses on solving street-level crimes but find that thieves are tenacious. Sometimes, they even break into vehicles and punch out ignitions to get away in a car.
"It can be a mode of transportation because they can't afford it," said Wooley. "It's also a way for them to commit crimes without being detected."
However, most times these stolen vehicles are a result of crimes of convenience, Wooley said.
"They left their vehicle unattended for just a couple of minutes while it was warming up. And the vehicle was stolen unlocked with keys in it already," he said. "It is frustrating because it's preventable."
Billings resident Gerald Giebink's truck was stolen last spring. He recently recalled the series of events that followed in the process of losing not only his mode of transportation but also important items left inside the truck.
"I was extremely, unapologetically angry that night," said Gerald Giebink. "I was looking up and down the row that has my car and it was definitely not there."
With just 26 days before his graduation from Rocky Mountain College, inside his 1997 Toyota 4Runner were items he needed to finish his courses.
"Some of my midterm papers that still needed to be turned in were all gone, along with most of the books that I needed to complete those papers."
Giebink's sense of security was lost. His mother, Rita, said she also felt a sense of violation.
"Since this happened, we implemented quite a few safety measures on all of our vehicles," said Rita Giebink. "We put a security system on the house."
Rita watched her son's success momentarily derailed.
"While we were at an awards banquet and he was getting an award for being an exceptional student, those people were out driving around looking for something to steal," said Rita Giebink.
Roughly a month after Gerald's truck was stolen, police recovered it after a crash. It was trashed and used it to commit a host of other crimes.
"Pipes for meth, pipes for marijuana, we found some drugs paraphernalia. Other than that, scales, bags, paper, all kinds of stuff. And we found a handgun," she said.
So they worked to return items and found a necklace filled with someone's ashes, a possession the Giebinks believe is dearly missed by someone.
However, in the process of cleaning out Gerald's truck, they found an alarming discovery. A book, filled with addresses of potential homes to steal from, along with an inventory of item descriptions and each one's worth.
"It didn't just happen to one person. It's happening to our whole community," said Rita Giebink.
So the Giebinks are using the incident as a way to gain awareness and support for community resources
"We need to solve the problem with the system and solve the problems with individuals feeling the need to do this and ultimately doing it without repercussion. But also individuals need to protect themselves," said Gerald Giebink.
Rita believes it's important to support police safety levies when they are presented to the public so the Street Crimes Division can continue its work.
"We are going to pay anyway. We are going to pay higher insurance premiums, because of how many cars are stolen in Billings, Montana," said Rita. "We are going to pay because we lose property; we are going to pay because now we have to buy security systems."
Reporting by Andrea Lutz for MTN News