HELENA — Missoula state Rep. Tom Winter this week became the first Democrat to announce that he's running for Montana's sole U.S. House seat in 2020 — but a much higher-profile Democrat may be entering the race later this week.
Kathleen Williams, the Democrat who last year lost a race for the seat to Republican Congressman Greg Gianforte by five percentage points, said Tuesday she's holding a campaign kickoff rally in Billings on Friday — but wouldn't say for what office.
Gianforte hasn't said whether he's running for re-election next year. Sources have told MTN News that Gianforte is seriously considering a run for governor in 2020, when that seat becomes open because of term limits.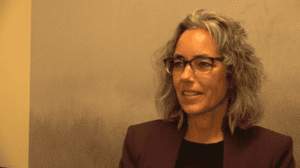 Williams also has been mentioned as a possible candidate for governor or U.S. Senate next year. She told MTN News two weeks ago that she planned to announce her campaign plans in early April, but didn't specify which seat she would be seeking.
Republican U.S. Sen. Steve Daines is up for re-election in 2020, and as of yet, no Democrat has announced that they plan to challenge him. Also, no Democrat has said they plan to run for governor in 2020, to succeed Democratic Gov. Steve Bullock, who can't run for governor because of term limits.
Bullock has been considering a long-shot run for president.
Winter, 32, told MTN News on Tuesday that he's a good fit for the U.S. House race because he just knocked off a Republican in a highly competitive race for the Legislature in House District 96.
"I was one of the few people to flip a seat (last year)," he said. "And I just knocked every single door."
Winter defeated Republican state Rep. Adam Hertz in HD96, a swing district that includes Frenchtown and the suburbs and rural areas west of Missoula.
Winter grew up in Kansas City and moved to Missoula 10 years ago. He and his mother recently ran a business called Interim Health Care, which brought home-based health care to people in urban and rural western Montana, helping people transition to home after hospital stays.
He said he met people who had no access to health care, who lived 100 miles from the nearest hospital, and that the solutions offered by Congress aren't always helpful to places like Montana. However, when asked what solutions he would propose, Winter didn't have any specifics.
"One of the solutions to health care for Montana is that someone who has a lived experience in Montana has a seat the table, when these policies are worked out," he said. "I believe deeply that health care really points to the deep inequities that we see between Montana and the rest of the country and within Montana as well. And everyone needs access to good quality health care and good quality health insurance and we're not seeing that."
Winter also said he'd be a strong advocate for access to public lands in Montana.