GREAT FALLS – Patrick Sean Ryerson is accused of stalking a Cascade County judge and his family for several years.
Ryerson faces two felony charges for allegedly violating a restraining order Pinski filed against Ryerson to protect himself and his family.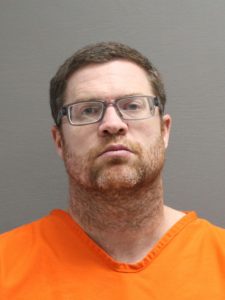 Court documents state problems began when Pinski issued a restraining order that kept "Ryerson away from his family." Ryerson had violated that restraining order in March 2016, which resulted in a conviction.
Due to Ryerson's actions after that restraining order was issued, Pinski filed an order of protection against Ryerson for himself and his family. Pinski's restraining order against Ryerson was valid until October 2017. It was then reissued after repeated contact from Ryerson and "clear escalaction in his behavior during the winter of 2018/2019," according to court documents.
Ryerson's attorney at one point had substituted Pinski from Ryerson's case, which was transferred to a Missoula court. Ryerson's attorney eventually filed an order of protection on him as well, according to court documents.
Court documents filed on March 25, 2019 indicate Ryerson has four orders of protection filed against him, two of which had been violated and prosecuted in the past.
Ryerson is accused of sending friend requests to members of Pinski's family, contacting the Pinski children's school, calling and harassing people at the courthouse, and leaving "vague, threatening voicemails" on the clerk of court's voicemail at the courthouse. At one point, Ryerson insinuated he knew where Pinski kept his golf cart.
Pinski provided hundreds of pages of documentation to detectives and stated Ryerson continues to refuse to obey court direction.
A detective on Ryerson's case was advised that security protocols and increases at Cascade County Courthouse have occurred in part due to Ryerson's "erratic behavior."
When speaking with investigators, Ryerson denied sending any friend requests or making threats.
During his initial court appearance on May 1, 2019, Ryerson's bond was set at $150,000.